Following on from Monday's
post
on this unhistoric GOFO, I've got around my problems with image upload on blogger by putting it up on twitter first.
Below is the 1 month and 12 month lease rates back to 1998. I think it is pretty clear that this current situation, while trending in the direction of something historic, is not there yet.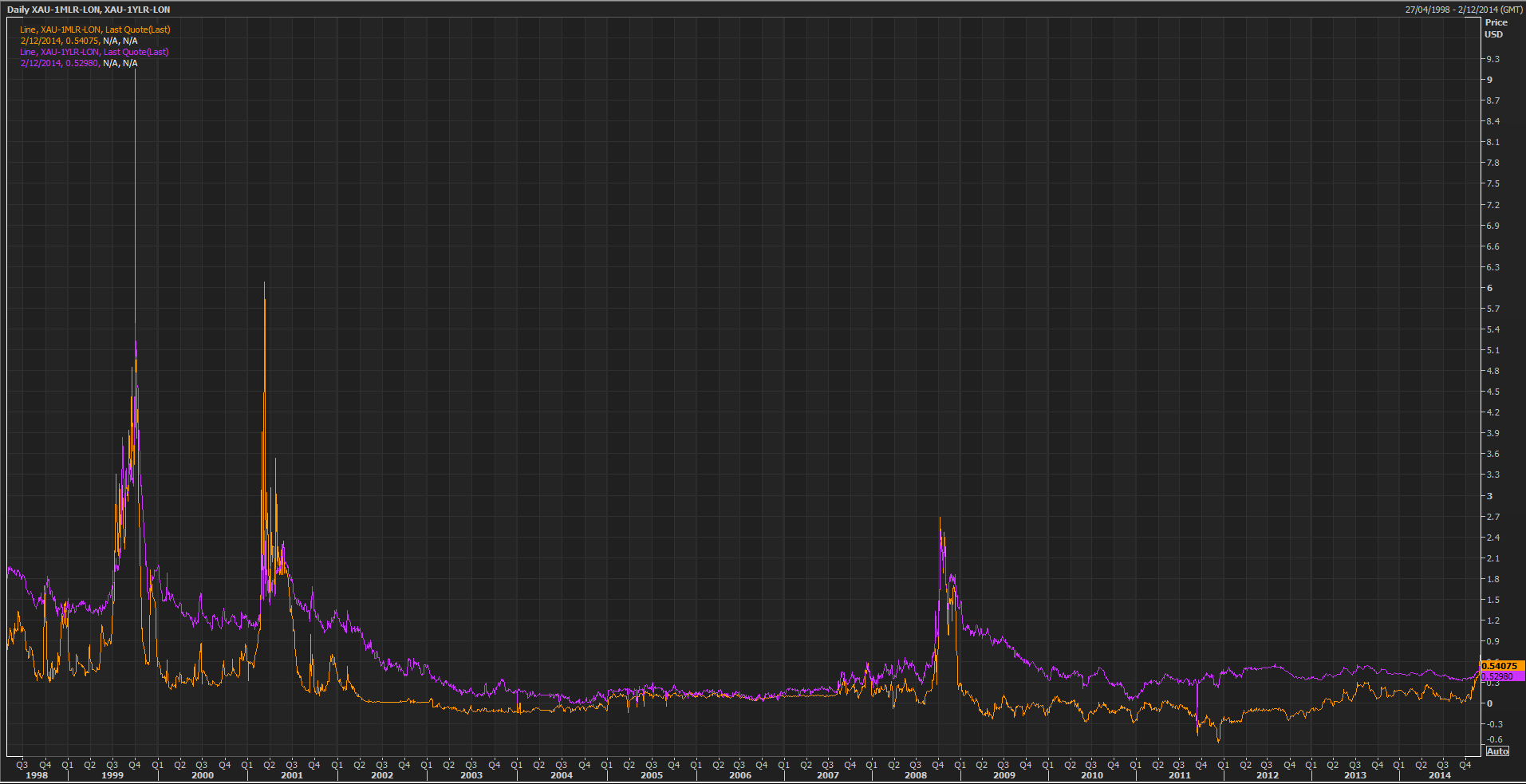 What is interesting is that the gold lease (interest) rate curve has just started to invert, with 1 month rates at 0.54075% while 12 month is at 0.52980%. Such inversions are rare, with the significant occurrences being in 2008, 2001 and 1999.
It is worth noting that during these periods the lease rate spikes lasted for at least 3 months before returning to pre-spike normal lease rates. There is also no correlation with action in the gold price. In 2008 for example, the gold price continued to weaken as lease rates went up during early Q4 2008. In 1999 you can see that the gold price was stable during Q3 1999 all the while lease rate spiked to record highs. So I think it is premature of commentators to spin this high lease rate/negative GOFO as guaranteed indicator of a bottom - history shows that price could weaken further before climbing.
On Monday I gave a number of reasons why we are seeing the action we do. The 2008 experience where the price fell while lease rate were high does suggest shorting. I would note that such shorting action could come from futures markets where speculators see the initial price weakness and then pile in. In such one-sided situations bullion banks will make a market and take the long side and hedge themselves by shorting gold in the OTC spot market. Such shorting activity will result in demand for borrowed gold, hence lease rate rise.
Such a theory means that lease rate spikes (if speculative driven, not liquidity driven) may be indicative of excessive shorting and thus market bottoms. If one saw futures speculative positioning on the short side, bullion banks on the long side and high levels of open interest at the same time as lease rates spiking off recent normal levels, then that could provide strong confirmation of excessive short sentiment.
By the way, Steven Saville has also
just blogged
on the recent "backwardation", saying much the same as I did on Monday but his post has GOFO and LIBOR charts which show the identical behaviour - worth checking out to see what I was going on about.